Project background
I had the pleasure of working with Revive Active, a premium health supplement business based in Ireland that was rapidly expanding its global reach. The company had a range of market proven supplements aimed at helping people improve their overall wellness, and they were looking for a way to further grow their customer base in Ireland and internationally.
Revive Active was founded in Ireland by Managing Director, Daithi O'Connor in 2011. Daithi was fuelled by a vision to enrich people's lives with a range of scientifically formulated health supplements. Today the range of supplements are exported throughout the world to over 48 different countries.
Objective
Working as a contracted graphic and visual designer my role was to offer creative support to the marketing team across multiple product campaigns both in digital and print. Engaging closely with the marketing team, one of the primary objectives was to create a comprehensive overall design strategy that would help the client's brand stand out in a crowded and competitive marketplace. The designs needed to communicate the company's values of promoting a healthy lifestyle and the importance of natural, high-quality ingredients.
Over the two year contract I helped to drive the national and international growth of Revive Active by providing successful concepts and ideas across digital and print and set standards for campaign digital graphics. I was also involved in the launch of two new products and the drive into the UK and US markets.
Date
2020 – 2022
Skills
Digital Design
Print Design
Online Advertising
Concepts
Advertising Campaigns
My Approach
The process began by talking with the current marketing team and researching the market and target audience of the client's products and gathering an overview of the clients past marketing and design efforts. By analysing and comparing the current design elements used by other health supplement companies we identified areas where we could differentiate the various Revive Active brands.
The work
I worked on the marketing campaigns and visuals that would be used across all the client's marketing channels, including email templates, website graphics and icons, social media, and print marketing. We reinforced the brands colour palette and typography and made it work consistently across all of the channels while also introducing new graphic design elements and motifs.
The campaigns
My role involved many fast moving digital campaigns for each of the brands that would work across web and social. These involved the design and execution of static and motion Facebook and Instagram ads, Google Display Network ads and website graphics.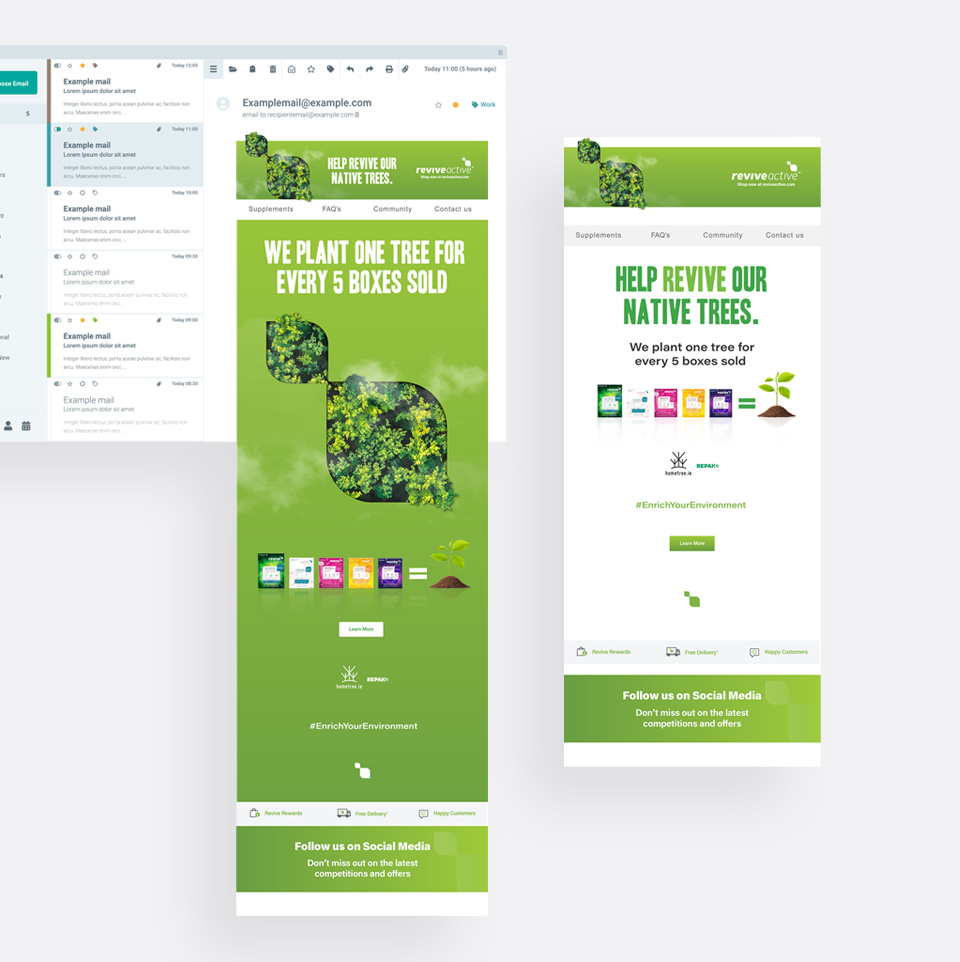 Results
Over two years I supported and delivered a comprehensive graphic design strategy that supported the client's growth into the worldwide market including the launch of two new products. The advertising work helped the company differentiate itself from its competitors and positioned Revive Active as a trusted authority in the health supplement space.
Conclusion
Working with this health supplement business was an interesting challenge, and I was happy to have contributed to their success. The marketing team eventually evolved into an in-house team that built on my work. It reinforced the idea that with a well-executed design strategy, even a small business can stand out in a multinational marketplace and attract customers from all over the world. I look forward to seeing this client continue to grow and thrive in the future.