Sonny Molloy's Whiskey Bar
Project Background
Sonny Molloy's Whiskey Bar is renowned as one of the Wests premier whiskey bars and a founding member of the Galway Whiskey Trail. It has a very distinct character based around its previous incarnation as a once a famous drapery shop run by well known Galwegian, Sonny Molloy. The counter of the bar is still the very same as when Sonny himself worked behind it. This small cosy old-style bar is hugely popular with locals, professionals, artists and visitors and the demographic spanning whiskey lovers of all ages, from 20 somethings to retirees.
The Work
With well over 100 Irish and international whiskey's on offer the visual identity and branding of Sonny Molloy's Whiskey Bar had to be heavily steeped in the visual language of whiskey while offering a nod of reference to the premises heritage. Old wood, rich browns and brass, casks and barrels, whiskey soaked counters and Galway's past whiskey heritage were the reference points for the design. From developing the logo to creating a variety of menus, a 20-page booklet supporting Sonny Molloy's and it's place on the award-winning Galway Whiskey Trail to event posters and social media graphics. Sonny Molly's is copper-fastened as one of the finest whiskey bars in the west of Ireland.
Date
2013 – 2016
Skills
Concept
Branding
Creative Direction
Design
Sonny Molloy's Whiskey Menu
I was asked to design a multi-page Whiskey menu with a printed wooden cover containing information about the history of whiskey in Galway and a detailed whiskey menu explaining the different types of whiskey's and listing the complete selection with tasting notes and prices. Using imagery from both Sonny Molloy's and Galway's past I tried to conjure up the era when Whiskey was still being produced in the city. The menus include the signatures of Brian Nation and Barry Crockett, two of Jameson Whiskey's finest Master Distillers.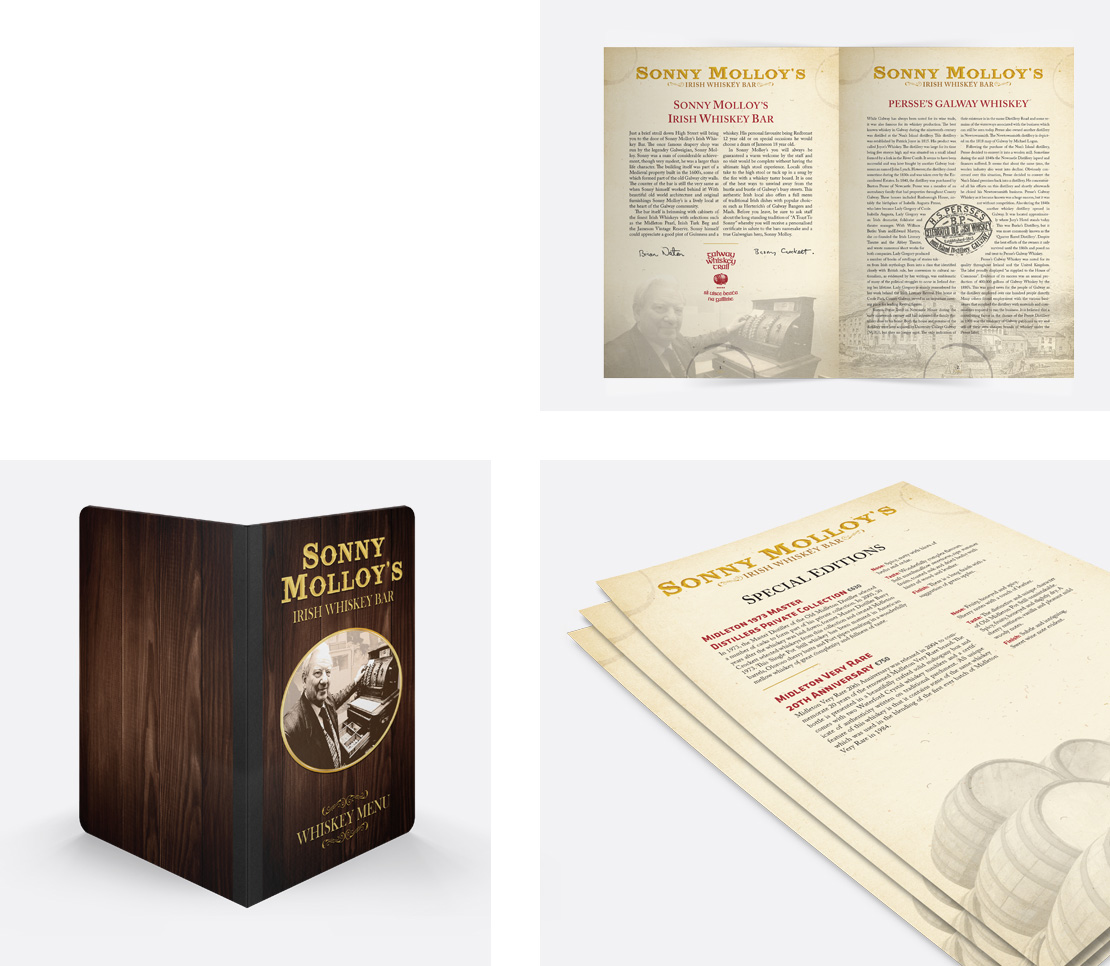 Sonny Molloy's Whiskey Trail Brochure
Sonny Molloy's is one of 11 premises in Galway city that are part of the Galway Whiskey Trail. I was asked to design a 22-page brochure for the Galway Whiskey Trail launch for Sonny Molloy's Whiskey Bar keeping to the branding and style of the bar. The booklet includes the history of Sonny Molloy's, the history of Whiskey production n Galway and a specially chosen selection of whiskey's for the reader. The inside back page of the brochure includes a specially designed certificate that can be signed dated and stamped by one of the bars Whiskey Ambassadors upon toasting the great Sonny Molloy.